By 2010 the demand for grants from the NMCT had grown enormously, but the funds that we had available had not, and in that year we were able to award grants of just £67,000.  However, impact of repeated budget cuts continues to damage the ability of collecting institutions to care for their collections, making our grants increasingly important.  
The Trustees began a campaign to raise funds to increase the number and size of grants that the NMCT could award and we have raised over £700,000 to date.  As a result the NMCT is now able to award grants totalling between £150,000 and £170,000 a year,
The Trustees of NMCT, and the recipients of NMCT grants, are enormously grateful to the following funders for their generous support and also to those that prefer not to be listed:
The J. Paul Getty Jr. Trust
The Colwinston Trust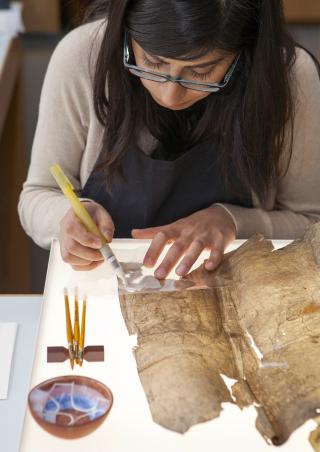 Image

The Pilgrim Trust
We are particularly indebted to the Pilgrim Trust, with which we have worked in partnership for many years. Their support has ensured the future of collections as varied as the archives of Penmaenmawr Quarry, the 12th century Winchester Bible, an early 12th century Psalter from Hereford Cathedral, the Minton Archive, the papers of the 1st Duke of Wellington and the archive of the British North Greenland expedition, all of which are accessible to the public and researchers as a result.
If NMCT grants are not to fall back to pre-2011 levels we must redouble our fundraising efforts - if you would like to help us please go to the How you can help us section of this site.  Help us ensure that our magnificent and varied manuscript heritage can be conserved and made accessible for the future.